On March 6, the Bitfinex crypto-exchange will conduct large-scale delisting of trading pairs due to its low liquidity.
Due to their low liquidity, on Friday, March 6th, we will remove several trading pairs. This measure serves to consolidate and improve liquidity on Bitfinex, leading to a more streamlined and optimized trading experience.
Full announcement ⬇️https://t.co/2WZijtrNjN

— Bitfinex (@bitfinex) March 2, 2020
Delisting will be carried out in regards to 46 pairs with Ethereum, Bitcoin, DAI and Japanese Yen.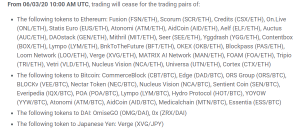 All indicated tokens will still be available for trading on Bitfinex.
"Removing these trading pairs is a common measure that serves to consolidate and increase liquidity at Bitfinex," the exchange said in a statement.
Earlier, Bitfinex transferred another $ 100 million to Tether to repay a previously taken loan of $ 700 million.